2019 Toyota Corolla vs Honda Civic Comparison for French Lick, IN
The Toyota Corolla and Honda Civic have emerged on the horizons of French Lick, IN as the most demanded sedans of 2019. Here Uebelhor Toyota is providing drivers with an opportunity to compare and contrast the features of both these cars. This comparison is according to surveys and data collected from the automotive market in Illinois to make you decide which ride would be a better return of your money.
Both cars have good scores for standard safety features, optimum fuel economy, and interior space. The Toyota Corolla hatchback, as well as sedan, have pulled ahead for its amazing ride dynamism with the addition of Apple CarPlay and Amazon Alexa, features that many of its rivals' sedans lack.
2019 Toyota Corolla
Schedule Test Drive
Toyota Corolla vs Honda Civic Performance
After getting an insight into different on-road driving experience around French Lick, IN, it is noticeable that the Corolla provides a swifter and more comfortable driving performance than 2019 Civic. It is worth noting that base models of sedans show the same EPA-estimated fuel scores of 36 mpg on the highway but 2019 Corolla provides a better and economical score of 28 mpg in the city as compared with civic which have a slightly lower score of 25 mpg. In fact, all trim levels of the 2019 Toyota Corolla also offer the drivers to save more on their trips in terms of fuel cost.
Other performance features of the 2019 Toyota Corolla include:
132 Horsepower
Quarter mile in just 16.5 seconds
1.8-liter inline-4 engine
Fuel efficiency
Easy handling even at high speed
Smooth ride
New Vehicle Specials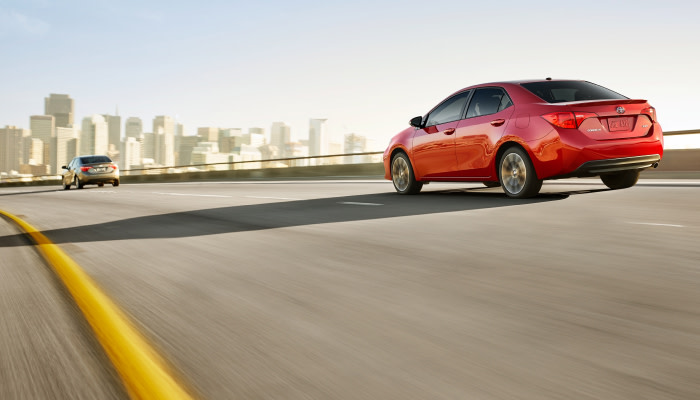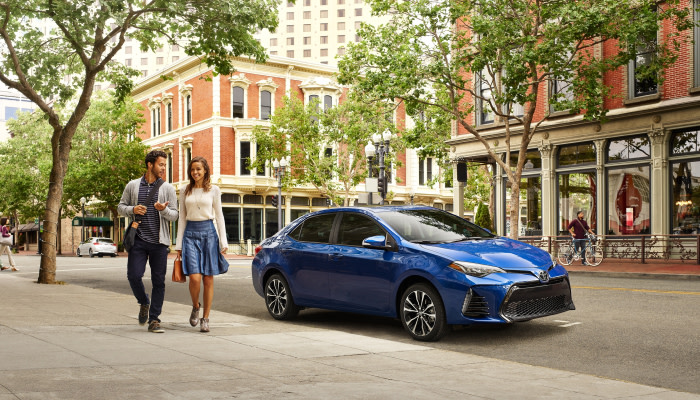 Toyota Corolla vs Honda Civic Exterior
The trims of 2019 Honda Civic and Toyota Corolla have different body styling and exterior designs. The Honda Civic is maintaining its coupe and sedan body styles, while the 2019 Corolla is available in a traditional U.S.-oriented sedan and the brand new European redesigned hatchback models. Following are the exterior features:
New mesh trim front grille
Intimidating lower fascia.
Narrow LED headlights for a sharper look
Elegant chrome works
Thin tail lamps
Payment Calculator
Toyota Corolla vs Honda Civic Interior
Both sedans, the 2019 Honda Civic and 2019 Toyota Corolla have an attractive interior that provides comfort and luxury. A positive point in the interior of 2019 Toyota Corolla that lacks in that of Civic is that it is designed in a way that proper space is utilized inside the cabin. So, if you like to have extra comfort with a spacious cabin while having family trips, the 2019 Corolla is highly recommended. Here are some interior distinctions of Corolla:
Spacious rear seats
13 cubic feet space for cargo
Upgraded infotainment system
Storage compartments
7-inch touchscreen
Rear seat when folded provides up to 18-cubic ft space for luggage.
Value Trade-In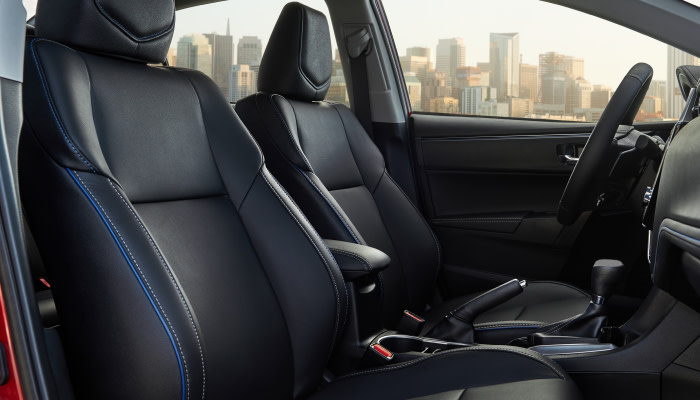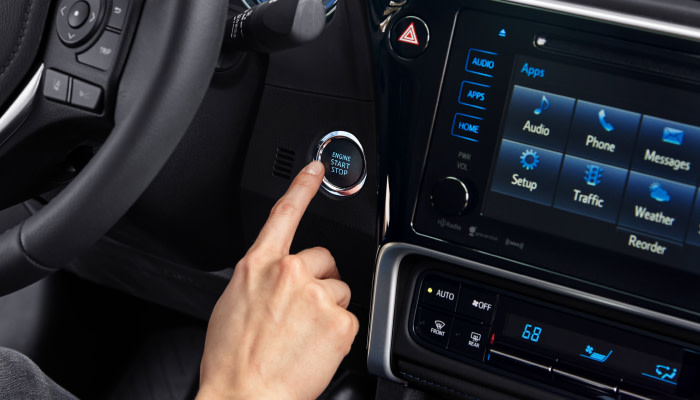 Toyota Corolla vs Honda Civic Technology
The Honda Civic and Toyota Corolla offer advanced tech and safety features such as driver assistant sensors. Honda Sensing is available as standard now on all the models of 2019 Civic, starting from base LX, to new attractive Sport trim up to Elite Touring trim as well as all models in between. Yet in contrast to this, the Toyota Safety Sense System features auto high beams and many other advanced-tech features that are lacked in 2019 Civic.
Some of the technical features of the 2019 Toyota Corolla are listed below:
6-speaker stereo.
7" user-friendly touchscreen
Advanced safety features
Bluetooth and Wi-Fi connectivity
Apply for Financing
Toyota Corolla vs Honda Civic Safety
Both the 2019 Honda Civic and 2019 Toyota Corolla are equipped with automatic emergency brakes and adaptive cruise control system. Corolla has introduced active lane control system which is essential for its safety suite in every car.
Some other safety features of 2019 Toyota Corolla are here:
Blind-spot monitors
Lane assistance
Parking assistant
forward-collision warnings
automatic emergency braking system
Pedestrian detection
adaptive cruise control
road sign detection
Automatic high beams
Toyota SafetySense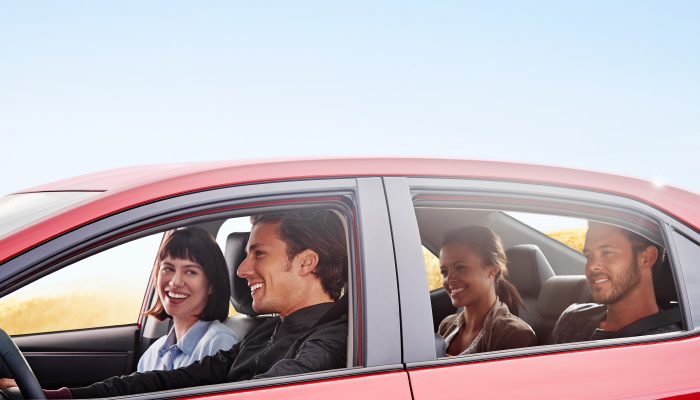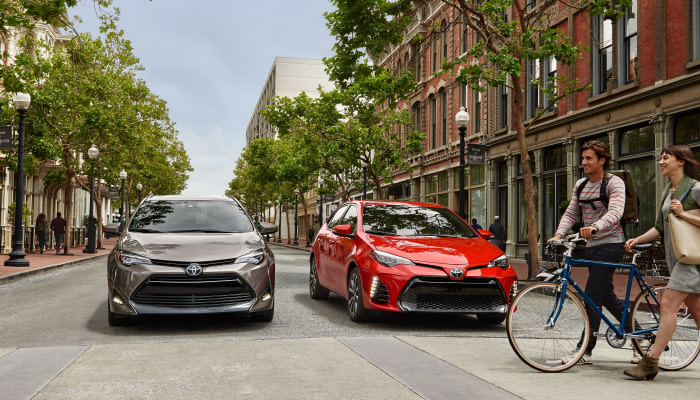 Toyota Financing near French Lick, IN
Uebelhor Toyota provides an opportunity to the residents of French Lick, IN to own a luxury ride through affordable financing plans. Our experienced professionals in collaboration of many reputable financial institutes and banks of French Lick, IN will make your dream come true. To meet our credit department team please visit Uebelhor Toyota Finance Center near French Lick, IN.
To facilitate our esteemed customers, we also offer e-financing tools including:
Credit rating calculator
Quick quote form
Finance Center
Why Buy from Uebelhor Toyota near French Lick, IN?
Uebelhor Toyota near French Lick, IN is a great place to purchase new as well as used cars. We have a versatile collection of sedans, hatchbacks, crossovers, and commercial vehicles. If you want to buy any trim level of the 2019 Toyota Corolla, you will be welcomed by us along with the special offers and incentives. Visit our showroom today or call our customer care to get your dream vehicles such as the 2019 Toyota Corolla with saving extra money.
2019 Toyota Corolla
Call Us Now