What is the Towing Capacity of the 2019 Toyota Tundra?
Toyota has launched the 2019 model of its highly demanded Tundra pick-up truck. It has active safety features, smooth ride, a powerful V8 engine, and spacious interior. The 2019 Toyota Tundra has the virtues that it can beat many of its rivals' trucks. Since 2018, we have seen a drastic increase in per month sales of Tundra in Jasper and many other nearby cities of Indiana. This truck is great at towing and trailering weight and can also serve well in all your cargo transportation needs.
Visit Uebelhor Toyota in Jasper, IN and have a look at various trim levels of the 2019 Toyota Tundra. We assure that, after having a walk around and a test drive of this decent yet powerful truck, you will not go without buying it.
2019 Toyota Tundra
Schedule Test Drive
2019 Toyota Tundra Engine Performance & Options
The 2019 Toyota Tundra is a full-sized truck with strong acceleration and very responsive handling. This truck is also equipped with active safety features like lane assistant, high beam lights and auto-braking system that increase its driving efficiency. These features when equipped in the rivals' trucks their prices go sky-high.
The 2019 Toyota Tundra offers the following engine options:
5.7-Liter Aluminum i-Force V8
381 horsepower
401 lb.-ft of torque
4.6-Liter Aluminum i-Force V8
310 horsepower
327 lb.-ft of torque
You can see all these options at Uebelhor Toyota near Jasper, IN. Visit us today and test drive a 2019 Toyota Tundra to enjoy its power for yourself.
New Vehicle Specials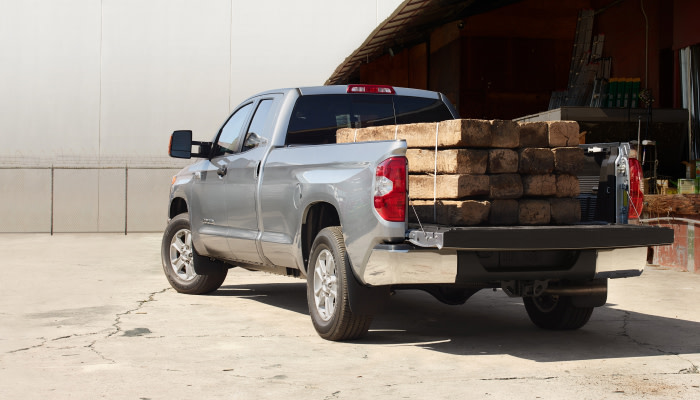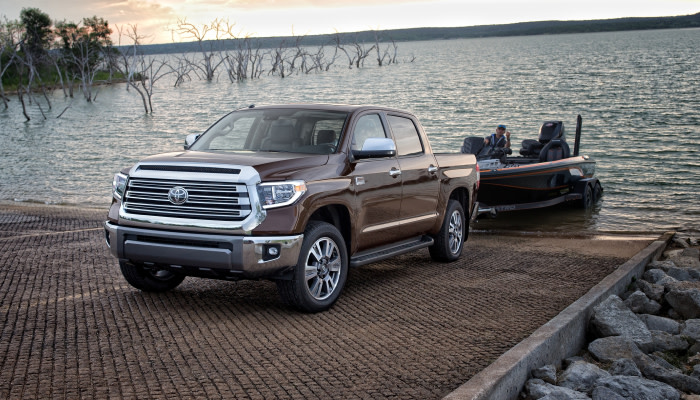 2019 Toyota Tundra Tow & Payload Capacity
Although the actual towing and payload capacity of the 2019 Toyota Tundra depends on which trim level you select of it. Generally speaking, your favorite Tundra can tow massively, towing and payload capacity ranges are mentioned below.
Towing capacity between 6400 to 10200 pounds
Payload capacity between 1440 to 1730 pounds
For towing and trailering weight with your 2019 Toyota Tundra, you can also take a variety of towing packages from Uebelhor Toyota showroom. These packages include specially designed side mirrors and some useful towing tools with which you can tow with your Tundra truck with increased efficiency and safety.
Apply for Financing
Why Buy from Uebelhor Toyota in Jasper, IN?
Uebelhor Toyota of Jasper, IN brings to you exciting deals on buying of 2019 Toyota Tundra and many other new and pre-owned vehicles. The price of the 2019 Toyota Tundra, with our special offers, discounts, and incentives is lower than many other dealerships in Indiana. You can also check the price quote of your desired trim of 2019 Toyota Tundra and can also enjoy a free test drive from Uebelhor Toyota.
Do not wait and visit our showroom today and take benefit from the reduced prices and special deals we are offering.
2019 Toyota Tundra
Call Us Now